Travel information
Favourite destinations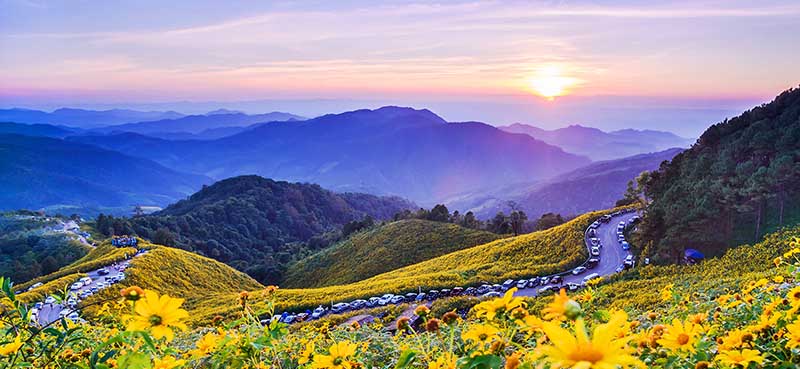 Mae Hong Son
Home to the famous backpacker town Pai, Mae Hong Son sees a steady flow of visitors who come to experience a slice of its peaceful rural lifestyle. This north-westernmost province bordering Burma is like another world, hemmed in on all sides by high mountain ranges. It boasts more than 80% of virgin forests, shrouded in mist all year round. From Mae Hong Son town, the next closest major city, Chiang Mai, is 368km away.
Mae Hong Son province has another name as 'the city of three mists' because it is surrounded by high mountains with cold temperature and covered with mist all 3 seasons. The city is rich of the beauty of natural resources – mountains, forests, Flowers leading the city to one of the must-see cities in Thailand.
Pai is one of those places where you could easily stay stuck for several days. There's something in the air that makes it a good place to live! But if you decide to let go of the fruithake and leave the hammock of your bungalow there are also a lot of fun things to discover.
Mae Hong Son has long been a place famous for the opportunity to visit the 'Kayan' ethnic minority, also known as the 'Long-Neck Hill Tribe' people. Once a tourist 'must-do' that was described in the Lonely Planet and other guidebooks, visiting these people has become controversial over the past 10 years as more information has surfaced about their exploitation. The groups of people that live in the hills surrounding Mae Hong Son belong to the 'Red Karen' or 'Karenni' ethnic group, also known as Paduang in Myanmar. They are not to be confused with the 'White Karen' ethnic group, originating from Thailand, who have full Thai citizenship.
Salween National Park – a UNESCO World Heritage Site – is the perfect oasis for getting away from it all. Embark on a rafting journey down the scenic Salween River or camp out in the verdant jungle where nothing comes between you and nature. Equally stunning, with its mirror-like lake and lush, forested mountains, Baan Ruam Thai Coffee Village (known locally as Pang Ung) is another ideal camping destination.
The Night Market: When the sun goes down this is where everyone seems to congregate to eat and have a good natter. Meat on a stick, bright pink dragon fruit shakes, spicy north-eastern Thai food, whole grilled fish and much more. Try the delicious pad thai just outside the entrance to the market for 30 baht.
How to get to Mae Hong Son
Most people reach Mae Hong Son by minibus. The main bus terminal is located about 1km from the lake.
The best time to visit Mae Hong Son City is from November to January where the weather is cooler and less humid due to Thailand's climate making it much more enjoyable to explore the outdoors.
It is extremely safe in Mae Hong Son City. The locals are very friendly and will go out of their way to help you enjoy their hometown. That said, the road around Mae Hong Son can be quite curvy and for those who aren't used to driving mountainous roads, be sure to be extra careful while driving, especially if it rains.